Yesterday, we reported that California voters have grown more anxious and pessimistic about living in California. Notably, a strong majority believe that American Dream "once held true but does not anymore."
Looking further afield, by a three to one margin, voters believe it is "easier to achieve the American Dream in a different state than in California."
This year, the People's Voice probed voter beliefs about their future in California.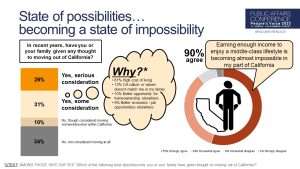 More than three out of five (62%) Californians now say their "family would have a better future if we left California." Just two years ago, less than half of voters (48%) agreed with that sentiment. Two-thirds of parents agree that "my children will have a better future if they left California."
Sixty-five percent of voters reported personally knowing someone who moved out of California because of either job loss or cost of living concerns.
Economic uncertainty contributes mightily to these concerns. Nine out of 10 voters agree that "earning enough income to enjoy a middle-class lifestyle is becoming almost impossible in my part of California."
California has suffered a growing exodus of residents over the past decade, with the state's population actually declining for the last three years.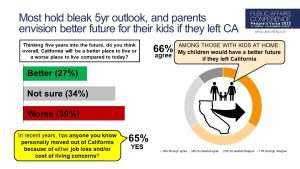 Asked if in recent years they had "given any thought to moving out of California," 57% had given at least some consideration, while 26% reported that they'd given "serious consideration" to leaving the state. Not surprisingly, the reasons given were related to the bottom line: 61% gave "high cost of living" and 10% cited "better opportunities for home ownership" as reasons for leaving.
Some officials and pundits have speculated that California's "de-growth" may be a blessing in disguise, given the housing shortage and overall affordability. Voters strongly disagree. By a nearly three to one margin, voters believe that people and businesses leaving the state has a very (27%) or somewhat (46%) negative impact on California.
Tomorrow, we will report on voters' opinions about how state leaders are addressing key policy issues.
The California Chamber of Commerce poll was conducted by Bold Decision and Pierrepont Consulting & Analytics with online interviews from October 2-8, 2023 with 1,002 online interviews of California likely 2024 general election voters. The margin of error for this study is +/- 3.1% at the 95% confidence level. This is the ninth year the CalChamber has published The People's Voice survey.
Loren Kaye