I'll never forget that crisp, spring day in the early 1990s, when I closed my eyes, held my breath, puckered up and experienced my first kiss…of a four-inch, slimy, green and yellow – banana slug. It was not exactly the coming-of-age, magical and innocent moment I had expected. That said, I have loved deeply ever since, the memories of the week in the wilderness of Whiskeytown I enjoyed as a 6th grader at environmental school.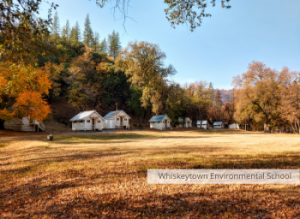 We called it NEED Camp back then. It later became known as Whiskeytown Environmental School or simply WES Camp. Since 1971, throngs of middle school students have flocked to the unique campus setting along the banks of pristine Clear Creek to learn about the importance of environmental stewardship, including what to do if you find a scorpion in your cabin (another memory of mine!). The educational and edifying five days were disguised by singing, moon-lit hiking, fishing, exploring, and even the first co-ed dance of my life. Admittedly, I was a sheltered, Saint Joseph School student, mixing with public school students, so as you might imagine the week was an education in many ways.
NEED Camp needs us now. In 2018 the Carr Fire raged through the school and left it in unsafe, unusable condition. In an effort to rebuild and fortify its future there is a public/private partnership in place to raise the funds necessary to bring back WES Camp. You can read about the mission and vision of this effort, as well as ways in which you can help, by clicking 
HERE.
 Additionally, there is a survey being conducted by 
GoForth Consulting
, regarding the rebuild and relaunch of the environmental school, which you can take by clicking 
HERE.
Josh Hoines, Superintendent of Whiskeytown National Recreation Area, tells me that they have submitted a National Park Service Federal Grant Application in February and the response is pending. If funded, it would mean millions of dollars toward this effort and would accelerate the timeline substantially. The proposed project is impressive and would include many modern upgrades, while preserving the rustic flavor of the property, including the bunkhouse cabins that many have found so endearing.
Many thanks must go to the Friends of Whiskeytown, the National Park Service, the Shasta County Office of Education, WES Community and the greater north state community for not giving up.
I am certain that many of you have memories of your time at NEED Camp/WES Camp. Whether it was kissing slugs, learning that there actually is a diminishing return on the application of cheap cologne, or shouting in unison, "We feel great! Oh, we feel so great! Oh!", this special time has stuck with us. I'd love to hear your stories. In the meantime, I'm suddenly in the mood for a rope swing at Whiskeytown Lake and a sandwich from 
Holiday Market
, aka, summertime in the Redding of my youth.
Jake Mangas
President & CEO