The Redding Chamber of Commerce pledges to live by the code of the 3 C's: Convener, Catalyst, and Champion for you, our treasured business community. Enter a new "C" word – COVID-19. I think this has presented an opportunity.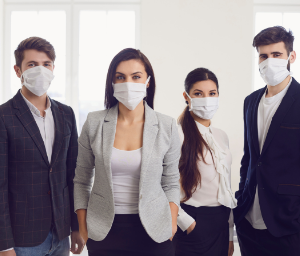 This health crisis and subsequent economic crisis have forced us to pivot as a Chamber of Commerce. Now is the time to ask the hard questions made easier by the financial pressures to keep our own Chamber's doors open. What is our MVP (Minimum Viable Product)? Who can we strategically partner with to help our business community to survive the crisis of the moment and ultimately recover in the months ahead? I believe that this unprecedented time has given us a gift. That gift is to see what we should have been doing all along and what we now must do going forward, and that is to be the business organization that leads, steps into the arena, and charges forward courageously when those around us are paralyzed by the anxiety that comes from the uncertainty that surrounds us. It is easy to be the local chamber when times are good. Now is the time to earn the respect that comes with showing that we are willing to do whatever it takes to ensure our community emerges stronger.
Here is our response: "The Rapid Recovery Program".
I have introduced this immediate effort in recent columns, but today I will share more detail as to what is available now, thanks to the partnerships we have formed over the past 6 weeks.
Redding Electric Utility (REU): 
Economic Response Plan
, which includes account credits, 24-month amortization schedules for past due balances at 0% interest, and more.
SMART Business Resource Center: Financial assistance grants to help pay employment costs, including special programs in response to COVID-19.
Small Business Development Center (SBDC): Redding Chamber led "retail roundtable" meetings and other supportive efforts to assist businesses through their current challenges.
Shasta College Business Training Center/Redding Chamber University: Ongoing, timely training opportunities at a low cost or no cost thanks to the Chamber's partnership with Shasta College.
O2 Employment Services: Special discounted rates for Human Resources and Staffing during this time of recovery.
City of Redding: The Chamber has been working with the City of Redding on a grant program that will provide much needed relief to qualifying businesses. The final details will be released next month.
Thanks to The California Endowment and AT&T for stepping up to assist us with crucial funding during this time.
We at the Redding Chamber remain committed to strongly advocating for the reopening of all businesses in our community and providing the resources you need now and in the future.