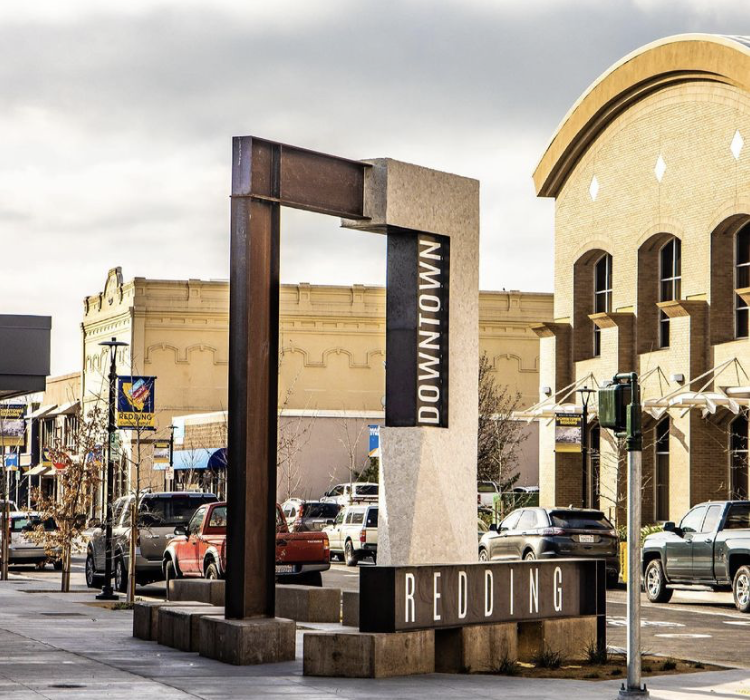 Below you will find a glimpse into the community of Redding, California, including: an Overview, Climate, Business Environment, Municipal Services, Health Care, Education, and Recreation & Entertainment, including annual events.
Redding Overview
With its natural beauty, an abundance of recreational opportunities, and excellent quality of life, Redding successfully combines the ambiance of a small town with the amenities of a large city. The outdoor lifestyle, affordable housing, and remarkably low crime rates attract many people from the larger urban areas, creating both a diversified culture and a growing center of commerce and industry.
Redding has become a favorite location for conventions for hosting groups from all over the nation, offering a number of large hotels equipped with convention facilities and a state-of-the-art Convention Center. Local accommodations range from modest, for those on a tight budget, to luxurious suites. There are also numerous RV parks, cabins, houseboat rentals and a wide selection of public and private campgrounds. Recreational visitors can enjoy outdoor activities to suit every taste, including fishing and boating on the Sacramento River as it winds through town.
Once visitors experience Redding, they return again and again. Maps, information packets, dining and hotel guides are available at the Greater Redding Chamber of Commerce and Visitor Center, located at 1321 Butte Street, Suite 100.
For more information, call (530) 225-4433.
Location & Quality of Life
Redding is located in Northern California, just south of Shasta Lake, nestled between the Cascades and the Trinity Alps. Its central location on I-5 in Shasta County has made it the nationally recognized marketplace of northern California, serving the adjacent counties of Tehama, Trinity, and Siskiyou.
Shasta County's metropolitan area has the distinction of being a modern business community comfortably located in the midst of the finest recreational area in California. Residents and visitors enjoy excellent shopping, the latest in cultural and educational facilities, and a wide variety of outdoor leisure-time activities.
The Redding Metro area is the regional center of Northern California for health and legal services, retail shopping and employment. Its location at the junction of I-5 and highways 299 and 44 make Redding the gateway to the Cascade and Trinity Alps recreation areas. Shasta Dam and Shasta Lake, with 350 miles of shoreline, provide the area's abundant water supply and inexpensive electrical power. The Sacramento River meanders nine miles through the middle of town, beginning just outside the City below Shasta Dam. This stretch of river is one of the finest trout-fishing waters in the Western United States.
The Redding and Shasta County area has been selected by The Searchers, a nationally renowned data research company, as one of the best places in the country to retire. The quality of life, clean air, low crime rate and affordability of housing are just a few of the 70-plus sets of criteria used in its determination. Also noted are a vast array of recreational opportunities, excellent medical facilities, and social activities that would enhance anyone's retirement plans.
Redding Climate
Climatologists describe the climate in the Redding area as Mediterranean, with hot, dry summers and cool, wet winters. Average high temperatures during July and August frequently exceed 90 degrees but drop to the low 50s in winter. Annual rainfall averages 33 inches, most of which falls between November and March.
Business Environment & Business Economic Development
The outdoor lifestyle and air quality of the metropolitan Redding area have attracted many highly skilled people from larger urban areas, creating a choice labor force. Both Money Magazine and Expansion Management Magazine have recognized the Shasta County metro area for its quality business environment.
Redding's overall job growth in a five year period was more than double the national average (19.9 percent compared with 8.7 percent). The increase in the number of businesses in the city is almost triple the national average (38.8 percent compared with 13 percent) for the same period.
Favorable zoning laws and the availability of low-cost electricity in Redding give many industries a competitive advantage. Redding also offers an extremely successful Down-Payment Assistance Program to aid first-time homebuyers. Affordable commercial and residential real estate, low-cost skilled labor and a low crime rate also contribute to Redding's rapid growth.
Redding's outstanding new Civic Center allows city services to be accessed from one location, and its new Permit Center provides one-stop customer service to the community. The city has also embarked on an aggressive industrial recruitment program to bring in manufacturing jobs that help make a community strong.
Business Expansion
One of the key components of Shasta County's business retention plan is to acknowledge and cater to small businesses, particularly those that help create a diverse economy with industrial linkages between local manufacturers. The Redding City Council has developed a number of local incentives for industrial development and businesses that create new jobs.
Shasta Metro Enterprise Zone
The Shasta Metro Enterprise Zone consists of 51 square miles of commercial and industrial sectors of the Cities of Redding, Anderson, and Shasta Lake as well as adjacent industrial areas of Shasta County. Special incentives offered by the Enterprise Zone include sales and tax credit, hiring assistance, business expense deduction, net operating loss carryover and net interest deductions for lenders.
Occupations in Redding
Retail Trade
Government
Services
Manufacturing
Agriculture
Transportation, Commercial, Utilities
Construction
Wholesale Trade
Finance
Municipal Services
Shasta County is governed by general law with an elected Board of Supervisors; Redding, Shasta Lake City and Anderson each have the Council-Manager type of government. Local law enforcement agencies serve City and County residents by working closely with community groups to maintain Redding's low crime rate.
Residents of Redding are well protected by seven staffed fire stations located throughout the city, covering 70 square miles and protecting a population that now exceeds 80,000. Local volunteer units of the California Division of Forestry provide additional protection while a new vegetation management program emphasizes fire prevention.
Health Care
Redding serves as the regional health care center for Northern California. The city has two major hospitals with state-of-the-art treatment facilities: Shasta Regional Medical Center, which features a nationally recognized heart surgery program, and Mercy Medical Center, Redding's designated trauma center. There are also 15 convalescent hospitals, a specialty hospital, a private hospital, a large veteran's outpatient clinic, three retirement communities, 32 assisted living facilities and five nursing homes.
Public & Private Education
Shasta County's educational system includes great public and private schools, quality early childhood education, high schools scoring above average in STAR (Standardized Testing and Reporting) and SAT exams, an excellent community college, private, accredited, four-year colleges, and a nearby university. Schools range from small sites of less than 100 students in grade school to large high schools serving over 1,000 students. There are over 30 private schools, such as the very fine Bishop Quinn High School and St. Francis Middle School, which offer excellent educational programs.
Shasta Bible College
Beautifully situated on 23 acres, Shasta Bible College, founded in the early 1970s,  is located east of downtown Redding and has approximately 200 students enrolled in courses. The college is fully accredited by the Transnational Association of Christian Colleges and Schools (TRACS) and offers both undergraduate and graduate degrees in Bible, Theology, Christian Ministry, and Christian School Education.
Shasta College
Shasta College, a two-year community college, has been in existence since 1948. It is fully accredited by the Accrediting Commission for Community and Junior Colleges of the Western Association of Schools and Colleges. The college serves Shasta, Tehama, and Trinity Counties. More than 12,000 students enroll annually at Shasta College in programs leading to university transfer, occupational-technical training, and personal enrichment.
Simpson University
Simpson University and Graduate School is a private, Christian, fully accredited liberal arts institution. The college currently serves over 1,200 graduate and undergraduate students. The highly successful Degree Completion Program offers a Bachelor of Arts degrees in Business and Human Resources Management, Psychology, and Liberal Studies. Simpson College's undergraduate program offers Associate of Arts and Bachelor of Arts degrees.
National University
Founded in 1971 in San Diego, California, National University is a private, accredited, nonprofit institution of higher education. Since its founding, the University has provided access to high-quality lifelong learning opportunities to a diverse population of adult learners.
Recreation & Entertainment
Redding Civic Auditorium
The Redding Civic Auditorium markets the Convention Center to organizations all across the nation. The multipurpose building is able to host a variety of cultural, performing arts and business events. It is situated in a park-like setting near the Sacramento River's edge just off Highway 299 West.
Hotel/Motel Meeting Space and Restaurants
In addition to the Convention Center, hotel and motel properties in Redding have a total of 19,753 square feet of meeting space. There are 38 hotels and motels with a total of 2,450 rooms located within the city. Due to Redding's proximity to Interstate 5 and its large tourist trade, there is an abundance of eating establishments in the area. Over 200 restaurants offer a wide variety of ethnic foods. Fresh seafood is usually available in area restaurants, as the City is located only 160 miles from Pacific Ocean fishing fleets.
Shopping
There are 12 major shopping destinations in the Redding area, including two enclosed malls, nine major shopping centers, and a factory outlet center.
Turtle Bay Exploration Park
The Turtle Bay Exploration Park, a 300 acre cultural and scientific center focusing on the Sacramento River ecosystem and its surrounding forests, has received $7 million in ongoing development funds from the city of Redding. The complex currently includes three museums, a summer butterfly house, the Arboretum on the River, and a visitor's center. Construction is near completion on the interpretive Exploration Park, which features wildlife exhibits, an aviary, gardens and fine art exhibitions. The project's crown jewel, an exquisite harp-shaped pedestrian bridge with the suspended deck designed by the world-renowned Spanish architect Santiago Calatrava, was completed in July 2004.
The Sundial Bridge at Turtle Bay crosses the Sacramento River in the heart of Redding. The bridge links the north and south campuses of Turtle Bay Exploration Park and serves as a new downtown entrance for Redding's extensive Sacramento River Trail system.
Shasta College Theater and Art Gallery
The Shasta College Theater and the Shasta College Art Gallery have been offering first-class entertainment to Shasta County residents for more than 20 years. The Shasta College Fine Arts Program offers quality cultural entertainment with more than 50 performing arts events each year.
The Old City Hall Gallery and Performing Arts Center is a lovely historic building that is listed in the National Register of Historic Places. The structure, with its landmark bell tower, is located in the historic area of downtown Redding.
Regional Recreation
Local Parks
There are 529 acres of parkland within city limits, including the magnificent Sacramento River Trail System. Recreational facilities include lighted baseball fields, public swimming pools, and tennis courts, hiking trails, boat launching facilities, golf courses, soccer fields, a BMX bike park, and a skateboard park. A new 100-acre Sports Complex is currently under construction in northeast Redding. In addition, Shasta Lake City maintains 16 acres of parkland and Anderson has 400 acres devoted to the preservation of riparian habitat.
When it comes to outdoor recreation, Northern California has it all. Pristine lakes, wild and scenic rivers, spectacular mountain peaks, State and National parks, massive wilderness areas, caverns, and caves are all within a 75-mile radius of the cities of Redding, Anderson, and Shasta Lake. The Sacramento River Trail and Redding's popular trail system offer an ideal setting for walking, jogging, hiking, and biking.
Lake Shasta, located 15 miles north of downtown Redding, is the most impressive body of water in the area with 350 miles of shoreline and depths of up to 515 feet. Shasta Dam, the second-largest dam in the United States, rises 602 feet and is three times the height of Niagara Falls. Regarded by many as one of the most impressive of all American structures, it includes vista facilities and displays that interpret the story of the dam. Shasta Lake is part of the Shasta-Trinity National Forest.
Lake Shasta Caverns are the largest caverns in California. A narrated guided tour includes a boat ride across the lake and a short bus ride up the mountain to the caverns' entrance. This attraction is open year-round and is accessible only by boat.
State Highway 299 West provides access to the Trinity Alps Wilderness Area. Trinity Lake is home to California's largest nesting population of bald eagles and a wide variety of wildlife. Beautiful Whiskeytown Lake provides year-round opportunities for boating, hiking, mountain biking, seasonal rock climbing, and backpacking. Other facilities include a boat-launching facility, three campgrounds, picnic areas, and beaches.
Historic "Old Shasta" is located just six miles west of Downtown Redding and was the original County seat. In the early 1850s, Shasta was the leading mining center of the far north. Today, the state-operated museum contains many exhibits that portray the historic Gold Rush Days. McArthur/Burney Falls State Memorial Park, located east of Redding, is one of the most popular attractions in northern California. The 565-acre park offers campers and visitors a spectacular view of the falls, which cascade 129 feet.
Lassen Volcanic National Park is located about an hour's drive east of Redding via State Highway 44. The park encompasses 165 square miles of the 2,000 square miles of the Lassen National Forest. Mt. Lassen was the only active volcano within the continental United States until Mt. St. Helens erupted in 1986. Mt. Lassen last erupted in 1915. Park attractions include 50 lakes, Lassen Peak (10,457 feet), hot sulphur springs, beautiful waterfalls, and numerous signs of geothermal activity throughout the park. Park facilities include six campgrounds, picnic areas, and cross country skiing.
Thirty minutes south of Redding on Interstate 5 and just a few minutes south of Anderson is the town of Red Bluff, where the Sacramento River is spanned by a diversion dam. In the salmon viewing plaza, closed-circuit television enables visitors to watch these great fish swimming upstream. The Ide Adobe State Historic Park, located north of Red Bluff on the banks of the Sacramento River, offers an extensive interpretive program.
Shasta County's diversity offers everything from mountain biking to baseball, from fishing to golf, and from hunting to scuba diving. The recreation opportunities are as unlimited as your dreams of adventure.
Community Events
Redding is host to many popular special events throughout the year. Some of the larger annual events that are well attended by both local residents and out-of-town visitors include:
Kool April Nites (April)
This annual event showcases classic cars and music of the '50s and '60s.
Rodeo Week (May)
A tradition in Redding since the 1930s, this event celebrates the Old West history of Redding with the largest parade in Northern California. Other activities include a three-day professional rodeo, pancake breakfast, a bank "robbery" and a street dance.
Shasta District Fair (June)
The Shasta District Fair, which is held for five days in mid-June, features over 8,000 exhibits and 600 livestock animals. The fair's entertainment, auto racing, and five days of horse shows and competitions draw over 100,000 people.
Annual Lighted Christmas Parade (December)
Redding presents a nighttime Christmas parade featuring holiday-themed entries twinkling with lights. A similar parade is held in Red Bluff at the end of November.